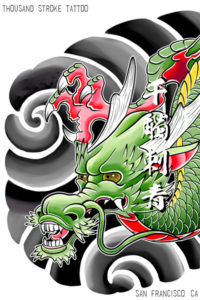 This announcement is late as some of you following along with my social media probably know.   I have finally chosen a name for my studio, "Thousand Stroke Tattoo." (千觸刺青)  I arrived at the name when I was working on a tattoo design and thought of how many actual strokes (brush/tattoo) went into each piece.  I felt like it must have been well over a thousand.   For me the name thousand stroke represents the amount of care and quality I pour into each piece of artwork.
So why no more "Oliver Wong Tattoo?"   I decided that working under the studio name Thousand Stroke Tattoo better represents my dedication to my craft, instead of a name that simply attaches my own name to my craft.  Also, it represents the hope that one day I will be able to grow the studio into something bigger than just myself.
Please bear with me during the transition of re-branding everything.   I am solely responsible for this, so there is going to be a confusing point in time where you still see old stuff.   Just know that anything with the thousand stroke name on it is work that I am putting out.