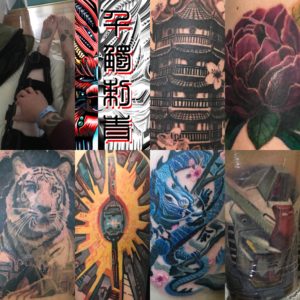 2017 was a transformative year for me.  I began 2017 with a crippling ACL and meniscus surgery that limited my ability to work and mobility.  For the first couple months of the year, I dedicated time to physical therapy and learning to walk again.  I was humbled by the experience and given pause to reflect and contemplate my place in the world as a creative person.  Living with a temporary physical disability helped to remind me of how important other people are to my existence both inside and outside my professional space.
Even though tattooing is a huge part of my personal identity, I chose to rename my studio Thousand Stroke Tattoo 千觸刺青 with the conviction that I am building something that is greater than myself.
As my physical condition improved, I also felt a renewed fervor and dedication to my craft.  I also feel a deeper connection to my work and have become more aware of the spiritual and conceptual themes that surround tattooing.  Before my name change, I only focused on the quality of visual output of my tattoos.  Skin was simply another medium in my visual art repitoire.  Post name change, I I am viewing each project as it relates to the individual identity of each client.
I have come to view tattooing as a ritual of embracing pain, permanent physical transformation, and expression.  I feel that Increasing my understanding of these themes has helped me to develop designs better suited to  fill my clients needs for self-expression better.
In my quest to further my own understanding of the frameworks surrounding tattooing, I myself have decided to continue my personal collection of tattoos.  I thank my Master "Just" Shao Gang for making the time to tattoo me during my last visit to Shanghai.  I verbalized with him that I intend to continue work toward full coverage of my body barring the head (for now) in hopes of remaining close to the client experience.
One of my goals for 2018 is to find time to explore the conceptual themes surrounding tattooing and create visual expressions of the dialogue that arises. Thank you everybody for making 2017 a meaningful year of growth and transformation.  I look forward to seeing you at Thousand Stroke Tattoo.
Oliver Wong